I am all fired up and angry about a new graphing calculator app today. Not that the app exists, but the way they are selling it.
Reason number 1:
I don't know what to say about this other than express my complete and utter revulsion at the ideas expressed by this new graphing calculator app called Graphlock. From the video on the site, "Want to save thousands of dollars on calculators while also helping to reducing distractions in the classroom?" That is the first sentence of the video.
Their solution? Charge students $4.99 a YEAR for a graphing calculator app that also locks down the phone so that learners can only do math. That's right. Don't trust the learners, don't create better, more engaging lessons. Don't actually do something that is better, just lock down devices so learners can't use them for anything else.
And it gets better. The "don't trust learners" statement? It is literally true. The video says that if a learner tries to do something else on their phone, it alerts the teacher so the learner can be punished for being bored and distracted during the boring lesson.
Reason number 2:
According to the article in Inc magazine, the "Real Problem" of math education is that,
There is an even bigger problem underneath the seemingly big problem of the rising cost of school supplies and it's kind of shocking: when students can't afford the supplies they need to finish their schooling, oftentimes, they give up or drop out. Mallory pointed out that she watched this happen repeatedly while in college at Central Arizona to become a professor of mathematics. Students in her Algebra class would realize they needed this graphing calculator that costs around $100, couldn't afford it, and would give up.
That's right. The real problem of math education is it is too expensive to learn math.
What?
No challenge of the assumption of the college to require learner to purchase a TI calculator. No, goodness sake, we can't challenge that. We can't show the college she taught at all the wonderful, free math learning software like Wolfram Alpha, Google (have you tried typing an equation into Google's search bar?), or Desmos.
Nope, the requirement is inviolate. And besides, those other things that definitely help learning? They also allow the learner to do other things besides math.
How does this create punishment?
The assumption throughout the articles is that when learning math, the teacher is the absolute authority, and must be listened too at all times. The teacher knows all, and must be in full control of every aspect of the learners thought, actions, and technology. If the learner does something contrary to the teacher's instructions, the learner must be corrected.
Math class, becomes a class of punishment and …. not sure about the reward. Certainly punishment. Some teachers will reward, but this software absolutely entrenches the observation state and punishment in the class.
It is the Panopticon on steroids, except instead of the observation state being built into the building, it is built right into the learners' devices. Besides, from the award she won, it isn't about math education at all. It is about winning seed money for a business. The Real Problem is companies making education more expensive through the corporatization of education.
This horrible software feeds into the reasons for the US failing behind in mathematics. Math class is one of memorization and regurgitation, not thinking, creativity, or joy.
Just so that I don't leave this post angry and hostile, I will leave this here. "Math for Human Flourishing." This article from Quanta Magazine about a talk given by Francis Su restores my soul a little bit.
As an aside:
Here is a college professor named Mallory Dyer. She is the creator and inventor of the calculator.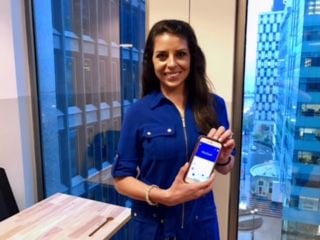 Yes, she has a name. You wouldn't know it by the headlines about the software. Here are the two that came up in my reader and made .
Coolidge woman develops app to make studying math affordable (Casa Grande News, a local newspaper)
and
How one woman is making math affordable (Inc magazine, a national business magazine)
They wouldn't even name her in the headline? No mention of her academic credential. She is just "a woman." How about, "Professor at Coolidge develops app to make studying math more affordable." Those 7 extra characters going to kill them? Or "How one professor is making math more affordable." This isn't an issue with software (more on that below) but the way this professional was treated. Stop the sexism, already.